Stimulating Investment in Large-Scale Chinese
Infrastructure Projects by International Capital Markets
BEIJING, March 5, 2018: The innovative revenue royalties financial system was recently introduced to capital markets in China at events in Beijing and Tianjin. A press conference and seminar, led by well-known Wall St. financial advisor Arthur Lipper, were co-sponsored by Asia-Pacific Group and the Tianjin Financial Assets Exchange.
Revenue royalties are performance-based capital, which pays investors a simple percentage of gross revenues without incurring equity dilution or debt.
Examples of large infrastructure projects that may benefit from this new approach to financing include the next generation of bridges, tunnels, ports, hospitals, roads, bullet trains, pipelines, agriculture technology, housing, water conservation, satellites, power transmission, wireless data, renewable energy generation, recycling, cultural and sports facilities. These public-private partnerships (PPP) projects will serve 1.3 billion people in China, and the businesses and governments that serve them, each day.
---
Discussions are under way to establish the regulatory framework needed to support PPP financing using revenue royalties in China. Immediate financing of a pilot group of highly-qualified projects, and opening up investment in Chinese infrastructure to international financial markets, are being considered.


A detailed announcement about the people and participating institutions involved is available on the web in both English and Chinese:
http://www.asiapacificgroup.us/zh-hans/royalties-seminar-17/
http://www.asiapacificgroup.us/royalties-seminar-17/
Leading off the press conference in Tianjin was Liu Meiyan, vice president of Business Department of CITIC Trust, one of China's largest trust companies. She said, "Today we are introducing the concept of royalties in China, in order to promote PPP projects, and to make China's capital markets more vibrant."
Video: http://www.asiapacificgroup.us/royalties-seminar-17/tianjin-ppp-royalties-press/liu-meiyan/
Speaking on behalf of Tianjin Financial Assets Exchange was vice-president Dai Bing, who said, "Royalties are a direct financing tool, with low cost and long duration, which can ensure immediate returns through revenue sharing. This will help attract more international investors to participate in China's new development."
Video: http://www.asiapacificgroup.us/royalties-seminar-17/tianjin-ppp-royalties-press/dai-bing/
Arthur Lipper, now based in San Diego, set the stage for three days of intensive activities with a group of Chinese financial professionals. He said, "The concept of royalties is thousands of years old — whereas the concept of incorporation and securities is only three or four hundred years old… There is great opportunity in China for community-guaranteed royalty income funds."
Video: http://www.asiapacificgroup.us/royalties-seminar-17/tianjin-ppp-royalties-press/arthur-lipper/
The managing partner of Asia-Pacific Group (Beijing, Honolulu, Seattle), is Michael North. He noted, "Our goal is to build a revenue royalties ecosystem in China that is ultimately simple to understand and access — a powerful way to attract new sources of capital."
Video: http://www.asiapacificgroup.us/royalties-seminar-17/tianjin-ppp-royalties-press/michael-north/
At the conclusion of the press conference, two new partnerships were announced, between Tianjin Financial Assets Exchange and Asia-Pacific Group. They are China PPP Royalties Fund Committee, charged with conducting multidisciplinary research into the implementation and extension of the system in China; and China PPP Royalties Research Center, charged with implementing the research in global financial markets, by offering diversified funds of PPP project offerings.
For more information, contact:
Liu Meiyan, Vice President of Business Department, CITIC Trust: liumy@citictrust.com.cn or
Michael North, Partner, Asia-Pacific Group
michaelnorth@asiapacificgroup.us.
A selection of videos, analysis and news is available at http://www.asiapacificgroup.us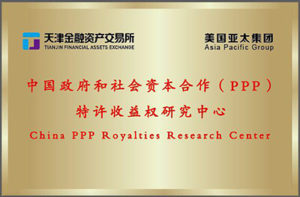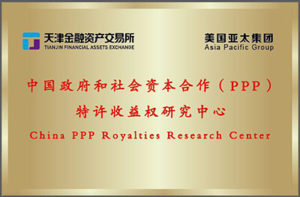 ---