Asia-Pacific Group and
Shanghai Chengzuo Asset Management sign
Memorandum of Understanding
---
On 14th April, 2017, Beijing MOZE International Culture Development Co., Ltd. and Asia-Pacific Group LLT, Honolulu Hawaii visited Chengzuo Asset Management Co., Ltd. Wuxi Branch.
MOZE and Asia-Pacific Group respectively signed cooperation agreement with Chengzuo Asset. MOZE will bring high-end and professional language training resources for Wuxi and its neighboring cities. Asia-Pacific Group is going to introduce some high-tech programs to Wuxi to boost its economy.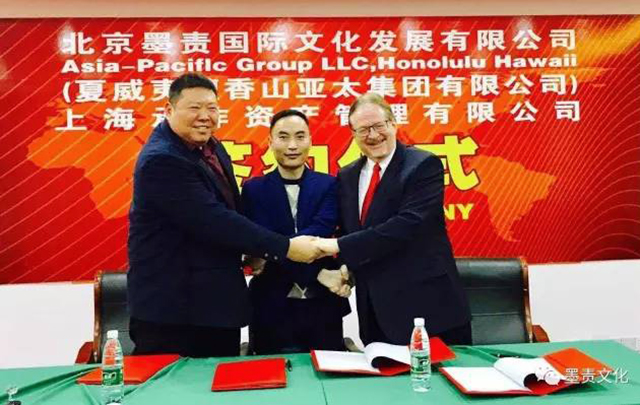 Shanghai Chengzuo Asset Management Co., Ltd. was established in Shanghai Pilot Free Trade Zone. It has branches and subsidiaries in Wuxi, Ningbo, Zhenjiang and Beijing.
Based on its overseas resources accumulated through 20 years, Chengzuo Asset is able to facilitate Chinese companies to enter European markets, build a bridge between local governments and enterprises and make contributions to the implementation of the Belt and Road initiative.
As a prominent company based in the US, Asia-Pacific Group has rich resources in cross-culture communication, finance and social contact. Asia-Pacific Group offers professional investment services for companies from China and other Asian countries. It takes creating unrivaled investment opportunities for American and Asian investors as its mission and ensures its business success through approaches such as cost control, effective decision-making and risk control.
The Beijing MOZE International Culture Development Co., Ltd. was established in December 2012 to meet increasingly more demands of well-qualified translation service. Affiliated with the China International Publishing Group (CIPG) and an executive member of the Translator Association of China (TAC), MOZE takes "Quality First" as its principle and "Customer First" as its tenet.
Although MOZE is still young, the company has become a leading translation provider in China because of the background, professional management and well-qualified team. MOZE's services include but are not limited to government documents, laws and regulations, conference materials, news on web portals, publicity brochures, subtitles for movies and TV programs, patent documents, culture works, financial statements, bidding documents, contracts & agreements and technical materials, as well as works of literature.
Over the past years, the company has translated about 20 million words between Chinese and other languages and provided interpreting services for a dozen of conferences. MOZE provides translation services in 10 languages: Chinese, English, French, Russian, Spanish, German, Arabic, Japanese, Korean and Portuguese.
http://mp.weixin.qq.com/s/sD2nr_J5q0ykFn0ZXbeKGA
---