FOR IMMEDIATE RELEASE
Revenue Royalties for 
Public-Private Partnerships (PPP)
Highlighted for Financial Institutions in China
Executive briefing by Arthur Lipper III
co-sponsored by Asia-Pacific Group
and 
Tianjin Financial Assets Exchange
Chinese | 中文

International Press Release Service
---
BEIJING: December 11, 2017: The Tianjin Financial Assets Exchange and Asia-Pacific Group announce an exclusive two-day executive briefing on revenue royalties and Public-Private Partnerships (PPP) to be held in Beijing December 21 and 22. The sessions are led by Arthur Lipper, famed Wall Street investment analyst, visiting from San Diego. Guests and scholars attending this briefing will include experts in finance, economics, and leaders in politics and commerce.
Arthur Lipper said, "I'm pleased to be invited to return to China, to work with leading financial institutions. Revenue royalties focus on providing return to investors by sharing a percentage of gross revenues, as an alternative to debt or equity. This technique can help China fuel the next stage of its infrastructure expansion, without incurring more corporate and government debt." Lipper's career extends more than 60 years; he founded two New York Stock Exchange member firms, and through the Lipper Index pioneered breakthroughs in the fields of mutual fund analysis, stock index funds and stock index futures.
---

Public-Private Partnerships, also called Government Social Capital, are a compelling new way to finance the massive projects needed to fuel China's continued economic growth. This is a major innovation in the supply cycle for public social services, applied to public infrastructure and responsive to market forces. Public service infrastructure may include the bridges, tunnels, ports, hospitals, roads, bullet trains, pipelines, agriculture technology, housing, water conservation, satellites, power transmission, wireless data, renewable energy generation, recycling, cultural and sports structures that every government, business and family in China use each day.

Franchise fees, applied to PPP financing, will provide beneficial diversification and open up new ideas and inspiration for PPP projects.
Ding Huamei, President of the Tianjin Financial Assets Exchange, said, "Much of China's rapid modernization over the past 40 years has been financed by public debt. Now there is a need to begin partnering more effectively with the private sector, bring international investors into China, and develop new trading instruments that do not add to the debt load. With this priority in mind, revenue royalties are being studied."
In his opening report to the 19th Party Congress in Beijing on October 18, 2017, President Xi Jinping said, "While China's overall productive forces have significantly improved and in many areas our production capacity leads the world, our problem is that our development is unbalanced and inadequate. This has become the main constraining factor in meeting the people's increasing needs for a better life."
The objective is to deepen financial system reform, enhance the connection of financial services to the real economy, increase the proportion of direct financing and promote the health of multi-level capital markets.
At the National Financial Work Conference in July, 2017, Xi said, "We should improve the ability of financial services to drive the real economy by energetically improving the modern financial service system. In particular, we should give prominence to boosting direct financing for the development of the real economy, and provide efficient, low-cost financing services. "
---
The Tianjin Financial Assets Exchange has strong shareholder backing and substantial resources, including more than 1000 financial institutions, with 440,000 institutional members and total transaction volume over 2 trillion yuan ($302 billion USD).
Shareholders include ANT Financial Services Group Co., a unit of Alibaba Group, China Great Wall Asset Management Co., Ltd., China Orient Asset Management Co., Ltd., CITIC Trust, and the Tianjin Financial Assets Exchange.

On February 28, 2017, the Government and Social Capital Cooperation Center of the Ministry of Finance of China signed a Strategic Cooperation Agreement with the Tianjin Financial Assets Exchange. They created an "Exchange of Government Social Capital Cooperation (PPP) Assets," a management platform for specialized partner institutions, under the guidance and supervision of the PPP Center at the Ministry of Finance.
---
The purpose is to promote the development of PPP business in China using market-oriented mechanisms; to research and develop innovative PPP asset trading techniques; and to provide a one-stop capital solution for PPP projects.
China Unicom, China International Consulting Co., Ltd., China Overseas Softbank Fund Management Co., Ltd., Ningbo Kaidun Fund Management Co., Ltd. and Tianjin Huaneng Group established the PPP Industry Ecology Alliance to promote PPP development and financial innovation. Liu Meiyan, deputy general manager of business innovation at CITIC Trust and chief executive officer of the Tianjin PPP platform, said: "The role of royalties as a low-cost, long-term fund management technology may bring new perspectives and solutions to the transformation of China's PPP finances."
"We are honored to host our longtime associate Arthur Lipper and our old friends in China, to begin working with this prestigious group of financial institutions in China. Our mission is to use methods pioneered in America to help solve the practical difficulties and challenges faced by China's infrastructure projects," said Michael North, the principal partner at Asia-Pacific Group (APG).
Zhou Xiaofang, President of APG, added, "Once successful in the public sector in China, we will provide this tool to private enteprise as well, and promote it globally under the One Belt, One Road Initiative."
Financial institutions and qualified investment groups are invited to attend this briefing, which is strictly limited to 100 participants. International institutions from America, Europe, the Middle East, and the BRICS nations are invited to attend.
This event will share understanding of a new financial method based on revenue royalties; and it will introduce a new investment strategy for China's infrastructure projects.
---
Sponsoring and Supporting Organizations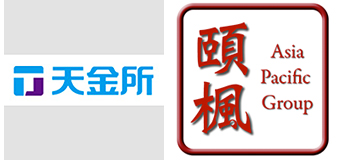 ---
Project information: http://www.asiapacificgroup.us/royalties-seminar-17/
Reading related to this Release:
http://english.cntv.cn/2015/05/28/ARTI1432800628902819.shtml
http://www.chinadaily.com.cn/china/2017-07/16/content_30127640.htm
https://www.adb.org/publications/public-private-partnerships-urbanization-peoples-republic-china-workshop-proceedings
http://europe.chinadaily.com.cn/china/2017-10/18/content_33405768.htm
http://news.xinhuanet.com/english/2016-09/14/c_135687736.htm
http://www.fmprc.gov.cn/mfa_eng/topics_665678/ytjhzzdrsrcldrfzshyjxghd/t1210451.shtml
http://www.asiapacificgroup.us/investments/china-royalties-ppp/
http://www.pacificroyalties.com
---
Organizations referenced in this Release:
Tianjin Financial Assets Exchange: http://www.tjfae.com/
Asia-Pacific Group: http://www.asiapacificgroup.us
Registration:
Tianjin Financial Assets Exchange:
Dong Qi, Fu Chang Hao
Phone: 13661090507, 18810880271
E-mail: qdong@tjfae.com, fuchanghao@tjfae.com
Contacts:
Asia-Pacific Group, Honolulu: Michael North,
email michaelnorth@asiapacificgroup.us
Media:
Photos and Images Library
https://pan.baidu.com/s/1i55Y6Eh – list/path=%2FPPP-Royalties-Media
---